We went into this field to do one thing: Help improve the lives of our clients. Finding the right hearing aids for you is about more than restoring your hearing. It's about empowering you to enjoy your ideal lifestyle. Whether you're a swimmer or a theater-goer, we'll work with you to find a hearing aid that gets you back into the life you want to live.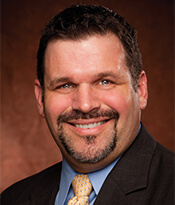 Coy Weems, HIS
Hearing Instrument Specialist
Coy Weems has over 48 years of experience in wearing hearing aids. He was fit with them at the age of five and has experience in various types and models.
Read More »
Due to this firsthand knowledge Coy is able to actually understand what it is like to experience the world with and without amplification and how truly wonderful it is to have the technology to assist others that are experiencing hearing difficulty in their life. Coy became a hearing aid specialist in 1990 and a member of the EyeCare Associates team in June of 2010. Coy's philosophy is one of individualized care and attention with a personal touch for all patients treated at The Hearing Center at EyeCare Associates. When you or your loved one enters our office, you can be assured of a caring and concerned staff that will treat you with respect and give you the professional attention you need for your hearing health care needs.